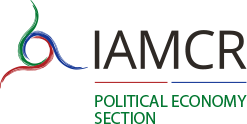 The Political Economy Section of the International Association for Media and Communication Research looks forward to the next IAMCR Conference and invites submissions (both individual proposals and collective panels) for the 2018 conference to be held in Madrid, Spain from 7-11, July 2019.

All abstract submissions must be made via IAMCR's Open Conference System at https://iamcr-ocs.org. All abstracts should be between 300 and 500 words in length. Both individual and panel submissions are welcome and early submission is strongly encouraged. The deadline to submit abstracts is 23:59 GMT on 8 February 2019.
The conference will be held under the general theme, Communication, Technology, and Human Dignity: Disputed Rights, Contested Truths.

The year 2018 saw the celebration of the 70th anniversary of the Universal Declaration of Human Rights. At its heart was the premise that everyone had the right to live in dignity. In the intervening years, with the successive growth of television, the explosion of digital media, and the emergence of artificial intelligence, communication systems have become ever more central to organizing every aspect of daily life, prompting renewed attention to questions around their role in both supporting and subverting the exercise of rights and the achievement of universal dignity.
The right to voice and visibility, to have one's experiences and ideas fairly represented in the heartlands of public culture is now established as a basic human right alongside rights of access to the comprehensive information and analysis that supports individual expression and social participation on a basis of equality, dignity and mutual respect.
Under current conditions these fundamental communication-related rights are under increasing pressure and threat. Control over the organisation of innovations in communication and their applications has increasing passed from governments to corporations. Concern with the public interest and the common good has been increasing displaced by business models designed to maximise revenues. These models are bolstering appeals to consumption while weakening the social contract of citizenship, providing new and largely unregulated platforms for the dissemination of rumour, misinformation and 'fake' news, ushering in the era of so called 'post truth' and reinforcing social and political polarization
These developments are taking place against a backdrop of rapidly widening inequalities of income and wealth both within countries and between different areas of the world. One visible manifestation of these changes is the escalating volume of migrations driven by political and environmental as well as economic pressures. The resulting expansion in the numbers of refugees and displaced persons poses new challenges for the rights of minorities and for guarantees of personal freedom and full access to citizens' rights.
The Political Economy Section invites papers and panel proposals that investigate the power dynamics that exacerbate these structural inequities but also explore alternatives for advancing the cause of human dignity and the right to communicate. Indeed, the increasing mediatization of daily life and the spread of political propaganda through social networking platforms as well as cell phone applications has renewed public debate on media effects, particularly as they fuel populist politicians around the globe. But these communication practices intersect with existing political and economic structures as well as unequal social relations that have been shaped throughout history. This is where political economic analysis can contest overly simplistic narratives about media effects.
Therefore, we encourage participants to critically examine that way that governments, corporations, institutions, or other structures inhibit or suppress peoples' rights to communicate. What are the political economic logics or structures that shape people's participation in public life? We also welcome analysis that focuses on how communities exercise agency within these contexts to advance the cause of human dignity and the right to communicate. In what ways are people struggling against these inequities? What are the emergent alternatives in the struggle to reclaim human dignity?
In addition to and /or in articulation with the conference sub-themes, the Political Economy Section also welcomes submissions on:

• Political economy of digital broadcasting, telecommunications, live streaming and mobile communications,
• Political economy of audiences,
• Political economy of journalism,
• Political economy of gender and feminism,
• Political economy of big data and surveillance,
• Political economy and climate change,
• Moral economies, gift economies and free culture/free economy,
• Media capital and financialization of corporate media,
• Civil society, public goods and media activism
• Communication/mediation of markets and finance.
• Power, media policy and regulation,
• Media, citizenship, cultural right and democracy,
• De-commodification, de-marketization or de-convergence in communications
• Cultural industries, cultural economy and diversity,
• Cultural and creative labor in the context of digitization and global capitalism,
• Continuing crisis (financial, moral, others),
• Communication experiences of the social media activism around the world (Brazil, Hong Kong, Colombia, Malaysia, Greece, Indonesia, Thailand, Mexico, Taiwan, Spain, Turkey etc.) as counter hegemonic social agents
• Global capital and media power spatialization
• Free trade agreements, copyright and communication and cultural policies.
Deadline
The deadline for submission of abstracts is 23:59 GMT on 8 February 2019 and will not be extended.
Decisions on acceptance of abstracts will be communicated to applicants by their Section or Working Group Heads no later than 15 March 2018.
Guidelines for Abstracts
All abstract submissions must be made via IAMCR's Open Conference System at https://iamcr-ocs.org. There are to be no email submissions of abstracts addressed to Section Head. All abstracts should be between 300 and 500 words in length.
Normally, only one (1) abstract per person will be considered, and under no circumstances should there be more than two (2) abstracts bearing the name of the same author either individually or as part of any group of authors. Please note also that the same abstract or another version with minor variations in title or content must not be submitted to more than one Section or Working Group. Such submissions will be deemed to be in breach of the conference guidelines and will be rejected by the Online Conference System, by the relevant Head or by the Conference Programme Reviewer. Authors submitting them risk being removed entirely from the conference programme.
Languages
The Political Economy section will review abstracts in the IAMCR official languages (English, French, Spanish), but encourages the membership and participants to submit and present their papers in English.
Criteria for Evaluation
Submitted abstracts will generally be evaluated on the basis of:
• General coherence and relevance to the political economy section
• Evidence of theoretical/ methodological rigor
• Empirical or conceptual originality which extends/provokes debate about the field of political economy
• Gives voice to subaltern/under-represented groups/countries, or facilitates resistance/praxis
Political Economy Section Contacts
Rodrigo Gomez
Peter Thompson
Ben Birkinbine
Please direct any queries to Ben Birkinbine <bbirkinbine [at] unr.edu>