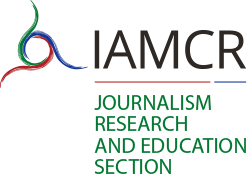 IAMCR's Journalism Research & Education Section (JRE) invites submissions for its open sessions at the IAMCR 2019 Conference to be held from 7 to 11 July, 2019 at the Complutense University of Madrid, Spain. The deadline for submission is 8th February 2019, at 23:59 UTC. Proposals for consideration by IAMCR's JRE section must be submitted via the Open Conference System at: https://iamcr-ocs.org/
The central theme of IAMCR 2019 annual conference is "Communication, Technology, and Human Dignity: Disputed Rights, Contested Truths". The theme is based on the premise that the growth of digital media, artificial intelligence, and mobile communication systems do have an impact on people's everyday life. Therefore, the question around their potential role in supporting and undermining the practice of rights and the achievement of universal dignity becomes imperative to be debated and examined.
The conference's theme particularly focuses on "the right to voice and visibility, to have one's ideas fairly represented" across different platforms of media, which is largely acknowledged as a basic human right alongside rights of access to information and analysis that supports individual freedom of expression and social participation on a basis of equality, dignity, and mutual respect. However, today these communication-related rights are under increasing pressure and threat. "Control over the organisation of innovations in communication and their applications has increasing passed from governments to corporations", resulting in the replacement of public welfare and interests by commercial models that aim to cater business outputs and revenues. The pervasiveness of commercialism has bolstered appeals to consumption and has weakened the social contract of public, providing new and considerably "unregulated platforms for the dissemination of rumour, misinformation, and 'fake' news, steering in the era of so called 'post-truth' and reinforcing social and political polarisation."
These developments are happening in the environment of widening inequalities (especially in terms of income, education, and wealth) both within countries and between different parts of the world. One explicit manifestation of these changes is the growing rate of migrations because of political instability, economic insecurities, and environmental pressures. Thus, the resulting expansion in the numbers of refugees and displaced persons raises new challenges for the rights of minorities and for guarantees of individual freedom and full access to citizens' rights.
The JRE Section invites papers that address these issues with evidences, theorize major issues, reflect on the situation today, and suggests how to deal with these challenges in terms of policy and action. Based on the IAMCR 2019 Conference's central theme, the section emphasizes some key questions:
What are the implications of the recent advances in communication technology on society, culture, and human rights, especially in relation to authenticity of information sources? How communication technology impacts the objectivity of facts and news authenticity? And how the geopolitical and socioeconomic contexts are influenced by the most recent changes in the structure and modes adopted by communication processes? How can journalism practice continue to facilitate human connection, understanding, and mutual respect in the face of the ever-increasing technological nature of the media and geopolitical turbulence? How can we define and reflect on our personal and social identities?
The JRE Section is open to panel proposals, workshop sessions, and individual research paper proposals that address the issues related to the main theme of IAMCR's 2019 annual conference as well as for proposals that amplify the comprehension of journalism research and education relating to the IAMCR's 2019 annual conference key theme. For instance we look forward to proposals that address the following (but not limited to):
• Process automation and its relevance in respect of journalism
• The massive use of control systems in political and legal decision making, and its implications for journalism practice
• Journalism, fake news and social bots: issues of truthfulness, objectivity and authenticity
• Digital journalism and today's challenges in writing and publishing news
• Theoretical and applied research in journalism, human dignity and communication
• Human rights in a digital age and the role of journalism in fair and equal representation of voices
• Role of journalism in bolstering dignity and representing the issues of inequalities within societies and in different parts of the world
• Challenges to journalism in the digital age
• Safety of journalists in the digital age
• Journalism and gender
• Journalism and democracy
• Journalism education and research: theoretical and methodological approaches
• Journalism, news formats and narratives
LANGUAGES
This Section accepts abstract submissions in English, Spanish or French, and presentations in all these three official languages of IAMCR
SUBMISSION OF ABSTRACTS
Abstracts should be submitted only via the IAMCR's Open Conference System (OCS) at https://iamcr-ocs.org/ from 3rd December2018 through 8th February 2019, in English, Spanish or French. Both individual and panel submissions as well as workshop sessions are welcome. Early submission is strongly encouraged.
DEADLINES
The deadline for submission of abstracts is 8th February 2019, at 23:59 UTC and will not be extended. Decisions on acceptance of abstracts will be communicated to applicants by our Section Heads no later than 28th March 2019.
GUIDELINES FOR ABSTRACT SUBMISSION
Abstracts should range between 300 and 500 words in length including the research objectives, theoretical framework and methodology.
All abstract submissions must be made via IAMCR's Open Conference System (OCS) at https://iamcr-ocs.org. Please note that no e-mail submissions of abstracts addressed to JRE Section heads will be accepted!
It is expected that for the most part, only one (1) abstract will be submitted per person. However, under no circumstances should there be more than two (2) abstracts bearing the name of the same author either individually or as part of any group of authors. Please note also that the same abstract or another version with minor variations in title or content must not be submitted to more than one Section or Working Group within IAMCR. Such submissions will be deemed to be in breach of the conference guidelines and will be rejected by the OCS system, by the relevant heads or by the conference program reviewer. Authors submitting them risk being removed entirely from the conference program. For further information, please consult the conference website, the heads of JRE Section by e-mail.
CRITERIA FOR EVALUATION
Submitted abstracts will generally be evaluated on the basis of:
1. Theoretical contribution
2. Methods
3. Quality of writing
4. Literature review
5. Relevance of the submission to the work of the Section or Working Group
6. Originality and/or significance
DEADLINES AND IMPORTANT DATES
The deadline to submit abstracts is 8 February 2019, at 23.59 UTC.
• 3 December 2018 - Abstract submission system opens at https://iamcr-ocs.org
• 8 February 2019 - Deadline to submit abstracts
• 28 March 2019 - Abstract decisions announced by sections and working groups
• 7 April 2019 - Deadline to apply for travel grants and awards
• 11 April 2019 - Deadline to confirm participation
• 7 May 2019 - Draft conference programme schedule released
• 14 May 2019 - Last day for Early bird registration
• 7 June 2019 - Deadline for full paper submission
• 17 June 2019 - Last day for changes to be made in the print version of the programme
• 7-11 July 2019 - IAMCR Conference
Journalism Research and Education Section
Visit the Journalism Research & Education Section's webpage
Chair:
Cláudia Lago
[claudia.lago07 [at] gmail.com (email)]
Co Vice-chairs:
Abiodun Salawu
[salawuabiodun [at] gmail.com (email)]
Sadia Jamil
[sadia.jamil [at] ymail.com (email)]
Oliver Hahn
[Oliver.Hahn [at] uni-passau.de (email)]