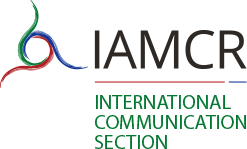 The International Communication Section of the International Association for Media and Communication Research (IAMCR) invites submissions of abstracts for papers and panel proposals for the IAMCR 2019 conference to be held at the Faculty of Information Sciences of Universidad Complutense de Madrid in Spain, from 7-11 July 2019. The deadline for proposal submissions is 8 February 2019, and this deadline will not be extended. Please see the bottom of this page to check other important dates.
The conference will be held under the general theme "Communication, Technology and Human Dignity: Disputed Rights, Contested Truths" and the general CFP is available at: https://iamcr.org/madrid2019/cfp
While proposals on any topic within the area of International Communication will be considered, proposals relating to the Conference theme will receive priority.
As indicated, this year's Conference theme focuses on: 'Communication, Technology and Human Dignity' and how some contested truths associated to these have led to disputed rights.
When back in 1964 McLuhan affirmed that "the medium is the message" in the opening paragraph of 'Understanding Media: The Extensions of Man', he specifically said that:
"In a culture like ours, long accustomed to splitting and dividing all things as a mean of control, it is sometimes a bit of a shock to be reminded that, in operational and practical fact, the medium is the message. That is merely to say that the personal and social consequences of any medium – that is, of any extension of ourselves – result from the new scale that is introduced into our affairs by each extension of ourselves, or by any new technology".
Fifty years later, the last five words are practically the most important ones, as technology is evolving so quickly that sometimes other relevant aspects, such as human dignity, are dismissed. Technology can be a powerful tool to promote human rights. Increased access to the internet and the development of social media tools have enabled activists to organize and spread their message more quickly than ever before. However, technological advances without considering human dignity may become a threat in the future ahead us – in which artificial intelligence and the most amazing technologies may derive in more inequality, inadvertently divide communities and regions and, even worse, ICTs without ethical considerations could also be actively used to harm people's dignity. At the same time, the role of technology in a post-truth world is increasingly being scrutinised as the impact thereof reverberates from reports from voters of voter-meddling in the UK's Brexit to Guptagate as state capture in South Africa.
At the International Communication Section we encourage proposals that address this important topic and their related intersections, by revising and / or presenting authors, theories, practices, and institutions that move beyond partial visions and explain and / or defend how technology should also care to provide citizens with the rights and dignity that must accompany even the most advanced technological developments – across societies and cultures.
We encourage our fellow colleagues to present abstracts and panels of their research coming from all over the world. The proposals can be on both well-known, already-established technologies and also emerging technological systems, such as the application of artificial intelligence, the rise of automation and robotics, and the newest advances on the internet and other type of technology applied to the media and the information society. We also welcome any analysis that reassesses and reimagines technology and human dignity in relation to openness, transparency, accessibility, and the new degrees of power, as we continue to explore the implications of media and communication for all the people in our inter-connected world.
Languages
The language policy of this Call for Papers of the International Communication Section is the same as the IAMCR language policy; that is, English, Spanish, and French. Therefore, we are pleased to receive and evaluate abstracts in any of these three languages. We are also able to allow presentations in any of the aforementioned languages.
Submission guidelines
Abstracts should be between 300 and 500 words, unless a particular Section or Working Group establishes their own criterion in this respect. All abstracts must be submitted through the IAMCR Open Conference System. Abstracts sent by email will not be accepted.
It is expected that each person will submit only one (1) abstract. However, under no circumstances should there be more than two (2) abstracts bearing the name of the same author, either individually or as part of any group of authors. Please note also that the same abstract or another version with minor variations in title or content must not be submitted to more than one Section or Working Group. Such submissions will be deemed to be in breach of the conference guidelines and will be rejected by the OCS system, by the relevant Head or by the Conference Programme Reviewer. Authors submitting them risk being removed entirely from the conference programme.
Important dates to keep in mind
29 October 2018 – Call for papers launched
3 December 2018 – Abstract submission system opens
8 February 2019 – Deadline to submit abstracts
21 February 2019 – Peer review begins
28 March 2019 – Abstract decisions announced by sections and working groups 11 April 2019 – Deadline to confirm participation
7 May 2019 – Draft conference programme schedule released
14 May 2019 – Last day for early-bird registration
7 June 2019 – Deadline for full-paper submission
17 June 2019 – Last day for changes to be made in the print version of the programme
7-11 July 2019 – IAMCR Conference
Contacts
Chair: Karen Arriaza Ibarra <arriazaibarra [at] ccinf.ucm.es>
Vice-chair: Deqiang Ji <jideqiang [at] cuc.edu.cn>
Vice-Chair: Viola Milton <Miltovc [at] unisa.ac.za>