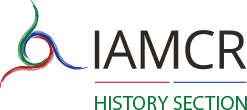 The History Section of the International Association for Media and Communication Research (IAMCR) invites submissions of proposals for individual research papers, and complete panels for the IAMCR 2019 Conference. This year's theme is "Communication, Technology, and Human Dignity: Disputed Rights, Contested Truths". Therefore, the section specially welcomes proposals dealing with the relation between different communication and media technologies and human dignity. Some of the topics that may be addressed are:
• Communication and human rights
• Freedom of expression
• Alternative media and struggle for freedom
• Minority and community media
• Technologies of surveillance and control
• Hate speech against groups and individuals
• Misinformation, disinformation, fake news and propaganda
• Media representations of minorities and unprivileged social groups
• Equality and discrimination from the point of view of migration, membership, citizenship and the "right to belong"
• (In)equality in media access
Papers and panels dealing with other historical dimensions of media and communication research are also welcomed, including but not limited to the following topics:
• National and international histories of the press, broadcasting and digital media
• History of professional and citizen journalism (including alternative types of journalism)
• Media in imperial and in post-colonial contexts
• Media and populism in different historical contexts
• National identities and the media (including how the media are used by the State and other political actors to promote nationalism and separatism)
• Critical historical approaches to cultural and media industries
• Collective memory of political, social and cultural transformations and events
• Media and communication research and digital archives
• Methodologies for research in communication history
• History of communication theory
• Media archaeology
Important guidelines for paper and panel proposals
Paper proposals should be of 450 to 500 words long, and should list the paper's title, author's name, university affiliations, and contact e-mail. The abstract should specify the subject, main question, aims, theoretical framework, methodology and indicate some of the findings, if pertinent.
Panel proposals should include a title, a rationale for the panel (max 500 words), and the name, university affiliation and e-mail address of the person responsible for the panel. There should be an abstract submitted for each panellist listing the paper's title, the author's name, university affiliations, and e-mail. All panels shall include 4 or 5 papers.
Submission of abstracts is to be done exclusively online through the IAMCR's OCS (Open Conference System), using this link: http://iamcr-ocs.org.
The OCS system will be available to receive abstract submissions from December 3, 2018 to February 8, 2019 (deadline). Early submission is strongly encouraged.
Upon submission of an abstract, you will be asked to confirm that your submission is original and that it has not been previously published in the form presented. You will also be given an opportunity to declare if your submission is currently before another conference for consideration.
Languages
Paper and panel proposals can be submitted either in English or Spanish. Authors submitting abstracts in English are expected to present their papers in English; those submitting in Spanish are expected to present their papers in Spanish. The Section will organize sessions in both English and Spanish at the Madrid conference.
Review process and criteria
Proposals will be peer reviewed by members of the History section. Other reviewers are welcomed to join. To do so please send an e-mail to the section head, Nelson Ribeiro (nelson.ribeiro [at] ucp.pt).
Criteria for evaluation: 1) theoretical contribution, 2) methods, 3) quality of writing, 4) literature review, 5) relevance of the submission to the work of the section, and 6) originality and/or significance of the work.
It is expected that for the most part, only one (1) abstract will be submitted per person for consideration by the Conference. However, under no circumstances should there be more than two (2) abstracts bearing the name of the same applicant either individually or as part of any group of authors. Please note also that the same abstract or another version with minor variations in title or content must not be submitted to other Sections or Working Groups of the Association for consideration, after an initial submission. Such submissions will be deemed to be in breach of the conference guidelines and will be automatically rejected by the Open Conference System, by the Head or by the Conference Programme Reviewer. Such applicants risk being removed entirely from the conference programme.
Presenters are expected to bring fully developed work to the conference. Prior to the conference, it is expected that a completed paper will be submitted to Section Chairs.
The results of peer reviews of submitted abstracts will be announced by the section heads by March 28, 2019. For any further information, please contact the section head, Nelson Ribeiro <nelson.ribeiro [at] ucp.pt>. Consider also to visit IAMCR 2019 website: http://iamcr.org/madrid2019