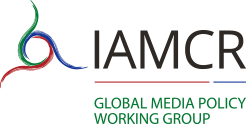 The IAMCR Global Media Policy Working Group invites submissions of abstracts for papers to be presented at the 2019 IAMCR conference to be held 7-11 July 2019 in Madrid, Spain. The deadline for submissions is 8 February 2019.
The 2019 IAMCR conference will focus on the interplay between communication, technology and dignity and address the impact of the latest advances in communication technology on society, culture and human rights. The Global Media Policy Working Group invites papers that address these dimensions from a global perspective and investigate the regulation and governance of key challenges in this field.
The Working Group explores supra- and trans-national forms of governance, the inclusion of multiple actors and perspectives in governance processes, and the emergence of new norms and practices of regulation. From this vantage point, we are particularly interested in comparative, participatory and innovative approaches to policy and regulation regarding the institutions, infrastructures and contents of media and communications systems.
Current questions in this area of research and practice include, among others: How can and should content (such as hate speech, misinformation, etc.) be regulated at a transnational level? What are global policy challenges and innovations regarding datafication, the Internet of Things, and Artificial Intelligence? To what extent is the nexus between technology developments and human dignity framed and embedded in current regulatory arrangements? What policy reforms are required to advance democratic participation, equality and fundamental rights in processes of algorithmic governance and, more broadly, in the datafied society? And what role should governments play in this context? What new approaches are needed to define regulatory frameworks for transnational media and internet corporations? How do we protect and advance communication-related rights, particularly through transnationally networked advocacy initiatives?
Submissions
Format: Applicants must submit a 300-500 word abstract via the submission site https://iamcr-ocs.org. Early submission is strongly encouraged. Email submission of abstracts is not accepted.
The abstract should describe its main question or research problem; its significance; the theoretical framework; the research method; expected outcomes (or theoretical argument); and its relation with the specific topics addressed in this call.
Submitted abstracts will be evaluated on the basis of their theoretical and/or research contribution, originality and significance, sound methodology, quality of writing, relevance to the work of the section.
In addition to paper abstracts, we encourage proposals for innovative formats such as workshops, video screenings, or field trips. If you are interested in submitting such contributions, please get in touch with us before the deadline as we cannot guarantee that all formats are feasible. The submission will entail a well-defined 300-500 word statement of purpose and a detailed description of activities, as well as any infrastructure requirements.
Multiple submissions
Individuals may submit one (1) abstract per Section or Working Group, and a maximum of (2) abstracts to the overall conference altogether (either individually or as a group of authors). Submitting the same abstract or another version with minor variations in title or content to more than one Section or Working Group is not allowed. Such submissions will be deemed to be in breach of the conference guidelines and will be rejected by the Open Conference System, by the relevant Head or by the Conference Programme Reviewer. Authors submitting them risk being removed entirely from the conference programme.
Paper Submission
Presenters are expected to bring fully developed work to the conference and are encouraged to submit a completed paper to the Working Group prior to the conference (see deadlines below).
Languages
The working group accepts submissions in its official languages of English, Spanish, and French, though an English translation (even a brief summary) of your abstract will be much appreciated. For conference presentations, we encourage presenters who wish to talk in a language other than English to prepare slides or print-outs in English to facilitate understanding, interaction and debate.
Deadlines and Important Dates
• Abstract submission: 8 February 2019
• Announcement of decisions on acceptance of abstracts: 29 March 2019
• Deadline to apply for travel grants and awards: 7 April 2019
• Deadline to confirm participation: 11 April 2019
• Release of draft conference programme: 7 May 2019
• Deadline for early bird registration: 14 May 2019
• Full paper submission: 7 June 2019
• IAMCR Conference: 7-11 July 2019
Venue
The IAMCR Madrid 2019 Congress will take place at the School of Communication of the Complutense University of Madrid, situated on the Moncloa Campus at the Avenida Complutense. It is near the city centre, with a Metro station only 5 minutes away and less than a 30 minute walk from Moncloa or the Halls of Residence area. Moncloa is a communications hub, and a well-known shopping and touristic area of the capital.
Further Information
For questions about conference logistics, including fees, visas, accommodation, conference venues, etc., please consult the conference website or contact the Local Organizing Committee (LOC) at madrid2019 [at] iamcr.org.
For any questions about the Global Media Policy Working Group and the content of its upcoming conference sessions, please get in touch with us:
Claudia Padovani (Chair), claudia.padovani(at)unipd.it
Arne Hintz (Chair), hintza(at)cardiff.ac.uk
Veronique Wavre (Vice-Chair), veronique.wavre(at)unisg.ch
Petros Iosifidis (Vice-Chair), P.Iosifidis(at)city.ac.uk