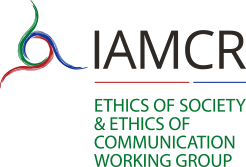 The Ethics of Society and Ethics of Communication Working Group of the International Association for Media and Communication Research (IAMCR) invites submissions of abstracts for papers and panel proposals for the IAMCR 2019 conference to be held 7-11 July at the Complutense University of Madrid, Spain. The deadline for submitting abstracts is 8 February 2019, at 23.59 UTC.
In 2019, we welcome contributions to the conference's theme "Communication, Technology, and Human Dignity: Disputed Rights, Contested Truths". This year's theme refers directly to the core of the Ethics of Society and Ethics of Communication Working Group's mission statement.
We encourage researchers from all fields of Media and Communication, with a particular interest for moral and ethical issues, to submit their contributions. Some of the topics that may be addressed are:
Human dignity, society and communication
Human rights in the news
Inequalities and social representations in advertising or fiction stories
Vulnerability and technology
Ethical issues pertaining to user generated content
Audience empowerment : cases and strategies
Integrity in communication and journalism
Codes of ethics and self-regulation: human rights
Corporate social responsibility and human dignity
The social and moral impacts of algorithms and robotics
Rumors, propaganda and misinformation
Ethical conduct for communication research involving humans
Social media: risks and opportunities for communication
Security versus violence against journalists
Migrations: data and representation
Kids online and parental guidance
Metrics and audience-driven contents, where are the limits?
Ethics of society and communication : the challenge of technology
This list of topics is not exhaustive; any proposal regarding the main theme or other themes of interest to the ETH WG will be taken into consideration.
We invite submissions of individual research papers and panels (please check carefully the IAMCR guidelines for panel proposals – an abstract for each paper and a summary are required, each of them with title and author).
Submission of abstracts
Abstracts must be submitted from 3 December 2018 through 8 February 2019. Both individual abstracts and panel presentations are welcome and early submission is strongly recommended. We kindly ask you to submit proposals in good time at the abstract submission site – https://iamcr-ocs.org.  
Deadline
The deadline to submit abstracts is 8 February 2019, at 23.59 UTC and will not be extended.
Decisions on acceptance of abstracts will be communicated to applicants by the Working Group Heads no later than 28 March 2019.
Submission guidelines
Abstracts should be between 300 and 500 words plus references (APA Style is recommended). All abstracts must be submitted through the IAMCR Open Conference System. Abstracts sent by email will not be accepted.
It is expected that each person will submit only one (1) abstract. However, under no circumstances should there be more than two (2) abstracts bearing the name of the same author, either individually or as part of any group of authors. Please note also that the same abstract or another version with minor variations in title or content must not be submitted to more than one Section or Working Group. Such submissions will be deemed to be in breach of the conference guidelines and will be rejected by the OCS system, by the relevant Head or by the Conference Programme Reviewer. Authors submitting them risk being removed entirely from the conference programme.
Languages
Abstracts in English, Spanish, French or Portuguese are welcome. Presentations are also welcome in any of the four languages, but we recommend researchers to prepare a Power Point in English to facilitate and guarantee a common ground for the discussion. In the sessions, assistance for the translation of questions or answers will be provided by the Heads of the WG if necessary.
Evaluation Criteria
Submitted abstracts will generally be evaluated on the basis of:
1. Theoretical contribution
2. Methods
3. Quality of writing
4. Literature review
5. Relevance of the proposal to the work of the Working group
6. Originality and/or significance
The results of peer reviews of submitted abstracts will be announced by 28 March 2019.
For any further inquiries, please contact the heads of the WG.
Ethics of Society and Ethics of Communication Working Group Chair
María Teresa Nicolás, PhD
School of Communication. Universidad Panamericana, Mexico
mnicolas(at) up.edu.mx
Ethics of Society and Ethics of Communication Working Group Vice-chairs
Elvira García de Torres, PhD
Department of Communication and Journalism. CEU Cardenal Herrera University, Spain
elvira.garcia(at)uchceu.es
Yanick Farmer, PhD
Department of Social and Public Communicaion. Université du Québec à Montréal, Canada.
farmer.yanick(at)uqam.ca
Deadlines and important dates
• 3 December 2018 - Abstract submission system opens at https://iamcr-ocs.org
• 8 February 2019 - Deadline to submit abstracts
• 28 March 2019 - Abstract decisions announced by sections and working groups
• 7 April 2019 - Deadline to apply for travel grants and awards
• 11 April 2019 - Deadline to confirm participation
• 7 May 2019 - Draft conference programme schedule released
• 14 May 2019 - Last day for Early bird registration
• 7 June 2019 - Deadline for full paper submission
• 17 June 2019 - Last day for changes to be made in the print version of the programme
• 7-11 July 2019 - IAMCR Conference