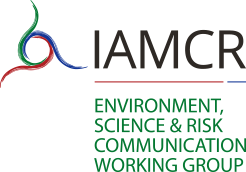 The Environment, Science and Risk Communication Working Group invites submissions of abstracts for papers and panels for the 2019 International Association for Media and Communication Research (IAMCR) conference to be held 7-11 July in Madrid, Spain. The deadline for submissions is midnight GMT on 8 February 2019.
The conference will be held under the general theme, 'Communication, Technology, and Human Dignity: Disputed Rights, Contested Truths'. The general conference theme is directly relevant to the Environment, Science and Risk Communication Working Group. We encourage the submission of papers that focus on the role of communication and media in both promoting and impeding the exercise of rights and the achievement of universal dignity.
The right to voice and visibility, to have one's experiences and ideas fairly represented in the heartlands of public culture is established as a basic human right alongside rights of access to comprehensive information and analysis that supports individual expression and social participation on a basis of equality, dignity and mutual respect. Under current conditions these fundamental communication-related rights are under increasing pressure and threat. On the one hand, communication infrastructure - and digital communication platforms in particular - are increasingly concentrated into fewer hands, either under private or state control. On the other, authoritarianism, right-wing nationalism and populism are increasingly manifesting themselves around the world. We encourage participants to reflect on how these conditions are impacting environmental, science and risk communication. Especially the far-reaching environmental impact of digital communication platforms and companies such as Google, Facebook, Apple, Amazon, Airbnb, Uber, etc., deserves adequate attention.
However, papers from the full range of environment-science-risk-communication topics and perspectives will be welcomed and considered.
Key themes for the Madrid sessions of the Working Group will include:
• Science, the environment and climate change in popular culture
• Media, advocacy and local/global environmental change
• Environmental and science activism and new media
• Feminist and postcolonial political ecology
• Smart technologies and everyday life
• Media and NGO communication of climate migration
• The intertwining of the local and the global in science and environmental communication
• Democratic debate and citizenship in risk politics
• Public/political engagement in science and environment communication
• Social and political uses/constructions of science, nature and the environment
• Science/environmental journalism and the political
• Inequalities of discursive control/influence in the public sphere
• Visual environmental communication
• Science and health-related media panics
• Scientific controversies/environmental crises, spin and news management
• Media-communication roles in environmental crises and disasters
• Media and public understanding of science/environment issues
• Comparative environmental communication
• Media/social media and counter-factual environmental discourses
• Science, evidence and credibility in the new (post-factual) media environment
Guidelines
We welcome both individual abstracts and panel presentations. All proposals must be submitted via the IAMCR Open Conference System at http://iamcr-ocs.org. Early submission is strongly encouraged. There are to be no email submissions of abstracts addressed to the Working Group Heads.
Abstracts should be between 300 and 500 words and will generally be evaluated on the basis of: 1) theoretical contribution, 2) methods, 3) quality of writing, 4) literature review, 5) relevance of the submission to the work of the working group, and 6) originality and/or significance. Each proposal must include a clear title, name(s), affiliation, institutional address and email address of the author(s). Bibliographies and author profiles are not required.
Panel proposals consist of a panel description (title + framing text) and the individual abstracts of the panel which are submitted separately.
It is expected that for the most part, only one (1) abstract will be submitted per person. However, under no circumstances should there be more than two (2) abstracts bearing the name of the same author either individually or as part of any group of authors. Please note also that the same abstract or another version with minor variations in title or content must not be submitted to more than one Section or Working Group. Such submissions will be deemed to be in breach of the conference guidelines and will be rejected by the OCS system, by the relevant Head or by the Conference Programme Reviewer. Authors submitting them risk being removed entirely from the conference programme.
The Working Group also welcomes abstracts for video presentations, as part of an experiment to allow for remote participation. If you wish to submit an abstract for a video presentation, please carefully read the Joint Call for Video Presentations, and follow the procedure explained there.
Languages
The Working Group accepts abstracts, panel proposals and full papers in English, Spanish and French. If you are planning to present in Spanish or French, you are expected to have an English powerpoint.
Deadlines and other dates to keep in mind
The deadline for submission of abstracts is 8 February 2019.
Decisions on acceptance of abstracts will be communicated to applicants by the Working Group Heads no later than 28 March 2019.
Environment, Science and Risk Communication Working Group
https://iamcr.org/s-wg/working-group/environment-sci-and-risk-comm
Working Group Heads: pieter.maeseele [at] uantwerpen.be (Pieter Maeseele) (Chair), Joana.Diaz [at] uab.cat (Joana Diaz-Pont), Kerrie%20Foxwell-Norton%20%3Ck.foxwell [at] griffith.edu.au%3E">Kerrie Foxwell-Norton, maitreyee.mishra [at] manipal.edu (Maitreyee Mishra) (Vice-Chairs)