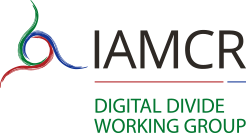 The overarching conference theme in 2019 is "Communication, Technology, and Human Dignity: Disputed Rights, Contested Truths". The theme addresses issues of human rights and dignity in a modern globalized world, where ICTs and artificial intelligence are influencing the way human rights are currently understood, promoted and protected. The theme seeks to explore the role of information and communication technologies in both supporting and subverting the exercise of rights and the achievement of universal dignity. It also argues that such rights as the right to voice and visibility, to have one's experiences and ideas fairly represented in public sphere, to have access to the comprehensive information are now gaining a status of fundamental rights in the society.
Within this context, the Digital Divide Working Group is particularly interested in exploring correlation and interdependencies between human rights and human dignity on the one hand, and modern communication technologies on the other. This said, we would like to discuss how ICTs and artificial intelligence (AI) are changing the way we see human rights as natural norms and principles that every person is inherently entitled to simply because he or she is a human being. Does the level of promotion and protection of human rights and dignity have any relation to the level of technological development of the society? Are countries will lower access and weaker development of digital technologies likely to lack behind in the protection of human rights? Is there any correlation between digital inequalities and social inequalities when it comes to the rights to voice, visibility, freedom of expression, access to information etc. in the society?
Our Working Group welcomes new theoretical approaches and empirical findings resulting from the research of digital inequality as a multi-dimensional phenomenon influencing various aspects of social life all across the world. In this respect we are also interested in stimulating fruitful discussions about co-relation of such factors as age, gender, income, education, location and technical skills to use ICTs, as well as the co-relation of media literacy and social inclusion in the modern social and political life.
For the 2019 annual conference we invite paper proposals on any of the following key topics:
• Digital inequalities and their impact upon promotion and protection of human dignity;
• The influence of ICTs and AI upon digital and social divides;
• Equality and human rights: technological and moral perspectives;
• Digital inclusion as a factor contributing to sustainable development of nations and individuals;
• The role of digital divide in communication across cultures, ethnicities and regions;
• Digital divide and exclusion from information environment: challenges and possible solutions;
• Gender rights and the developments of ICTs;
• Access to information as a basic human right;
• Correlation between digital skills / digital literacy and the way human rights are exercised by individuals and on a broader social level;
• The right to benefits of using communication technologies as a new human right
Abstract submissions
Abstracts should be submitted from 3 December 2018 through 8 February 2019. Both individual and panel submissions are welcome and early submission is strongly encouraged.
Decisions on acceptance of abstracts will be communicated to applicants by the Section or Working Group Head no later than 28 March 2019.
Guidelines for Abstracts
Abstracts should be between 300 and 500 words in length.
All abstract submissions must be made via IAMCR's OCS at http://iamcr-ocs.org. There are to be no email submissions of abstracts addressed to any Section or Working Group Head.
It is expected that for the most part, only one (1) abstract will be submitted per person for consideration by the conference. However, under no circumstances should there be more than two (2) abstracts bearing the name of the same applicant either individually or as part of any group of authors. Please note also that the same abstract or another version with minor variations in title or content must not be submitted to other Sections or Working Groups of the Association for consideration, after an initial submission. Such submissions will be deemed to be in breach of the conference guidelines and will be automatically rejected by the Open Conference System, by the relevant Head or by the Conference Programme Reviewer. Such applicants risk being removed entirely from the conference programme.
Submitted abstracts will generally be evaluated on the basis of:
1. theoretical contribution
2. methods
3. quality of writing
4. literature review
5. relevance of the submission to the work of the Working Group
6. originality and/or significance of the work
For further information, please consult the conference website at: http://iamcr.org/madrid2019
Language policy
The Digital Divide Working Group accepts abstract submissions and presentations in all three official languages of the association (English, Spanish and French). Whenever possible, we encourage people making presentations in French or Spanish to consider preparing their slides in English.
Digital Divide Working Group
Chair: Olga Smirnova, smirnovaorama[at]gmail.com
Vice-Chair: Anna Gladkova, gladkova_a[at]list.ru
Vice-Chair: Massimo Ragnedda, massimo.ragnedda[at]northumbria.ac.uk
Join the Working Group in social media: https://www.facebook.com/groups/795651687209460/?fref=ts