IAMCR Annual Conferences
The International Association for Media and Communication Research -IAMCR- hosts an annual conference. The 2021 conference will be an online event hosted bu USIU Africa in Nairobi, Kenya from 11-15 July.
Click on the menu links on the right hand side of this page for more information about an IAMCR conference.
Below is a complete list of conferences of the association and their locations.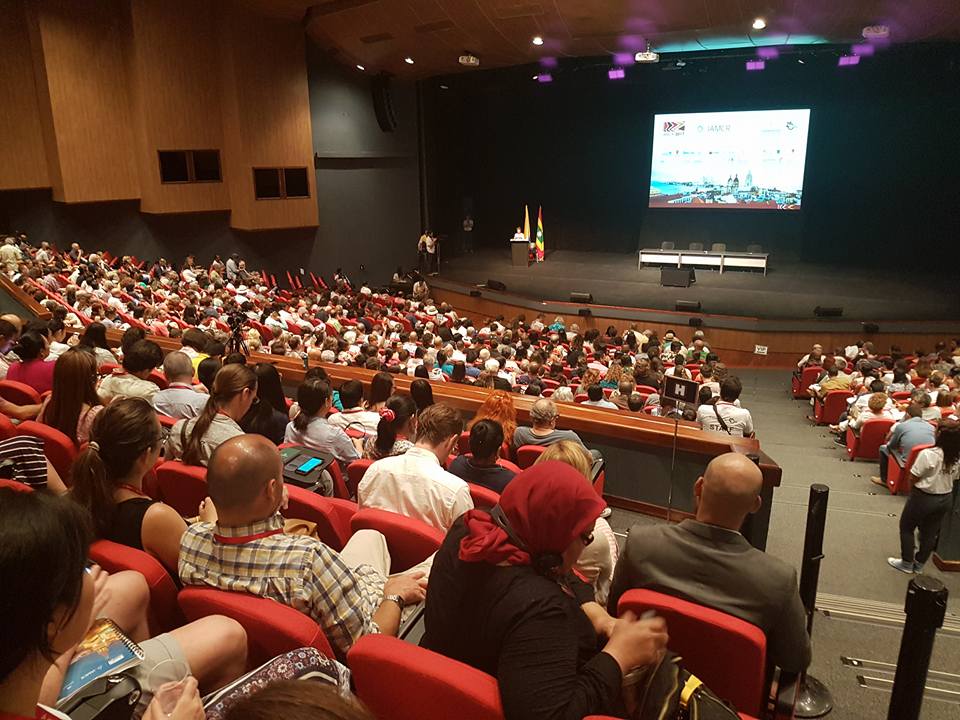 1957 : Paris (France)
1959 : Milan (Italy)
1961 : Vevey (Switzerland)
1964 : Vienna (Austria)
1966 : Herceg Novi (Yugoslavia)
1968 : Pamplona (Spain)
1970 : Konstanz (West Germany)
1972 : Buenos Aires (Argentina)
1974 : Leipzig (East Germany)
1976 : Leicester (England)
1978 : Warsaw (Poland)
1980 : Caracas (Venezuela)
1982 : Paris (France)
1984 : Prague (Czechoslovakia)
1986 : New Delhi (India)
1988 : Barcelona (Spain)
1990 : Bled (Yugoslavia)
1991 : Istanbul (Turkey)
1992 : Guaruja (Brazil)
1993 : Dublin (Ireland)
1994 : Seoul (South Korea)
1995 : Portoroz (Slovenia)
1996 : Sydney (Australia)
1997 : Oaxaca (Mexico)
1998 : Glasgow (Scotland)
1999 : Leipzig (Germany)
2000 : Singapore (Singapore)
2001 : Budapest (Hungary)
2002 : Barcelona (Spain)
2003 : (scheduled in Taipei but cancelled due to SARS epidemy)
2004 : Porto Alegre (Brazil)
2005 : Taipei (Taiwan)
2006 : Cairo (Egypt)
2007 : Paris (France)
2008 : Stockholm (Sweden)
2009 : Mexico City (Mexico)
2010 : Braga (Portugal)
2011 : Istanbul (Turkey)
2012 : Durban (South Africa)
2013 : Dublin (Ireland)
2014 : Hyderabad (India)
2015 : Montreal (Canada)
2016 : Leicester (England)
2017 : Cartagena (Colombia)
2018 : Eugene, Oregon (USA)
2019 : Madrid (Spain)
2020 : Online, hosted by Tampere University (Finland)
2021 : Online, hosted by USIU-Africa (Kenya)
2022 : Online, hosted by Tsinghua University (China)